CSSPS SHS Schools Self Placement Instructions, GES 2021
⭐⭐⭐⭐⭐ - Information on CSSPS SHS Schools Self Placement Instructions, GES. Other topics of interest include: Aviation Schools Offering Cabin Crew Courses In Ghana, Aviation Schools Offering Air Hostess Training Courses In Ghana, Cabin Crew Schools In Ghana, Air Hostess Training Schools In Ghana, Single Room Furnished Self Contained For Rent In Accra. Use the search box above to search for more.
5% Referral Commission Program!.
This is for those who missed out on the placement to SHS on the CSSPS platform due to one reason or the other. Once you have verified that you did not get your placement then the next thing for you to do is to carry out a self placement. Rejection may be due to the fact that the first selected school may be filled to their capacity after admitting students with the required "cut off" point.
Other reasons may be due to failing mathematics or English subjects, providing the wrong information during registration, choosing one school more than once which may automatically limit your chance of placement, or the school may be oversubscribed by candidates.
Note: The process may be subject to a fee. Kindly verify from the CSSPS website.




Procedure is as follows:
Visit: CSSPS Website
Login with your index number and PIN code
Click on "Check placement status"
You will find a link to self-placement if you have not been placed already

Click the "self-placement" link
Select preferred region

Select preferred school
Select program of choice
Click submit to finalize and place yourself
Proceed to print your placement notice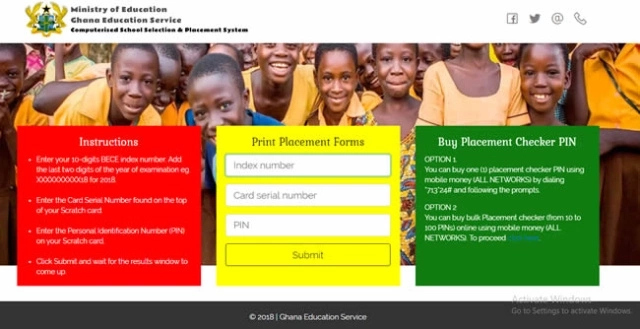 The Ghana Education Service (GES) has asked Basic Education Certificate examination candidates who did not get automatic placement into senior high schools by the Computerised School Selection Placement System (CSSPS) to try again.
The Service says it has made available a pool of schools from which the students can choose from on its online platform manually.
Public Relations Officer of the GES, Cassandra Twum Ampofo said the candidates were not placed because they did not get any of the five schools they had chosen.
The GES she said, did not do the placement for them because it wanted the candidates to do so themselves.
But there is no need to panic, the PRO said these students can do the placements on their own at www.cssps.gov.gh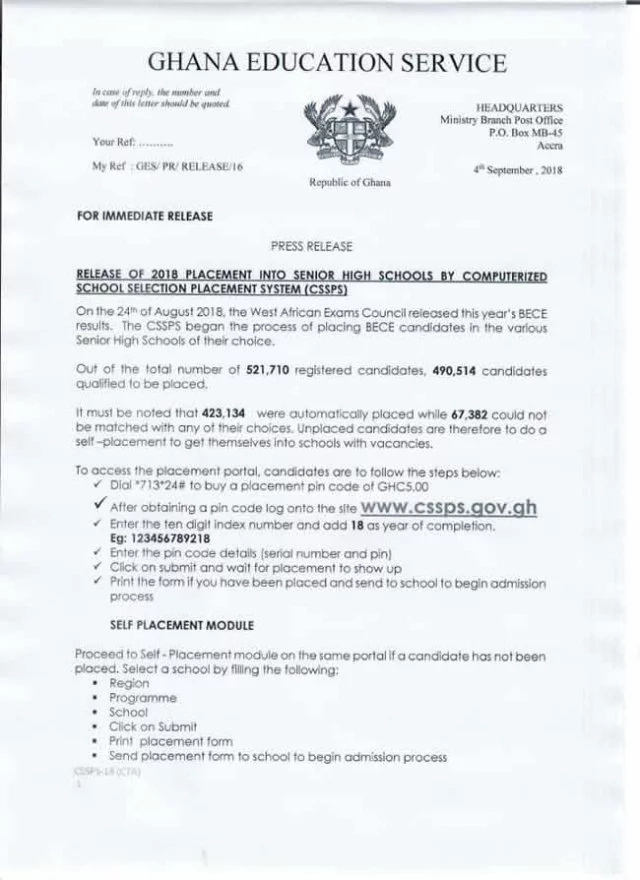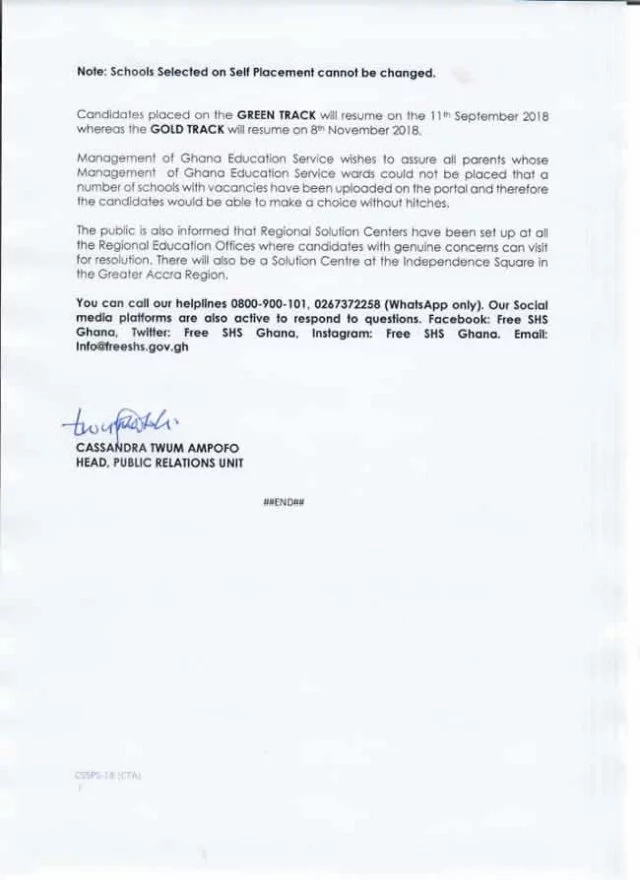 "To access the portal the first thing to do is to get a pin code. Dial *713*24# to get the code on your phone and then log on to the site."
Ampofo said candidates, in entering their index numbers must add 18, signifying the year of completion, "and then you go through the other instructions by inserting your serial number and pin and then your placement."
Students who have not been placed can proceed to the self-placement module on the portal once they have logged in, fill a form and choose their preferred school.
The GES is assuring parents that a number of schools have been uploaded onto the platform and their wards should go through the placement without hitches.
Regional solution centres have also been set up at all Regional Education Offices where candidates with genuine concerns can visit for resolution.
Click here to find out more about this
Application Tips For CSSPS SHS Schools Self Placement Instructions, GES
Choose institutions that reflect what you want to achieve.
Pay a visit in person if you can and speak to students who have been admitted and ask for tips.
Get recommendations from people that will make a difference between acceptance or rejection.
Begin the application process and make sure you check-list all that is required of you.
Provide additional information that may be relevant to your application.
In this day and age of social media you must remember to manage your online presence.
It will be in your best interest to go to the admissions office in person to find out about any updated information.
It is very important not to miss any deadlines.
Go over the application fully before you finally submit and make sure you have provided all required information.
Make sure to choose recommendations that will make a positive difference to your application.
Find Out More About CSSPS SHS Schools Self Placement Instructions, GES 2021
Find Business & Locations Related To CSSPS SHS Schools Self Placement Instructions, GES 2021
Watch Videos On : CSSPS SHS Schools Self Placement Instructions, GES 2021
Login to join 'Group Chat' for this page