Kwahu Ghana 2019
Ascent Kollege Remedial School.
Kwahu Easter is the annual Easter celebrations at the Kwahu South District of the Eastern Region of Ghana. People from all walks of life and all nationality throng to the Kwahu Hills every Easter to celebrate the three-day-long holiday.
This festival is celebrated in all the Kwahu communities, it is a festival of the Chiefs and people which comes off every year. Though traditionally a Christian celebration of the death and resurrection of the Lord Jesus Christ, it serves as a homecoming for the Kwahus. It was instituted to renew their commitment to the Christian faith.
Activities
Activities include para-gliding, hiking, carnivals and street jams. For the indigenes, that is the Kwahu people, it is an annual homecoming, but for holiday revelers it is an occasion for celebrations. There are also performances by various artists.
Over the years, the festival has proven that there cannot be Easter in Ghana without Kwahu Easter Para-gliding Festival. The festival which has been happening every year for about 10 years now, attracts both Ghanaians and foreigners to the Eastern Region during Easter.
Para-gliding which is a recreational and adventurous sport has numerous health benefits that visitors going to Kwahu will be blessed with after their visit. Through para-gliding, you can burn 230 calories per hour for an average 150-pound person, due to the immense adrenaline rush experienced while flying.
Also, it helps create confidence and enables you to overcome fear of heights. When para-gliding, you focus on the task and nothing else. You forget all your worries and the usual distractions of life. The intense focus coupled with adrenaline rush makes you feel cleansed mentally and physically.
Hiking the Odweanoma Mountain in Atibie is another activity that visitors explore during their short stay in Kwahu. Visitors take a hiking expedition to the mountain through the 'Nkofieho' Caves of Life.
The journey to the caves area itself is a unique experience through a typical forest. At a certain stage in the journey, tourists have to take on the challenge of climbing up the hill as part of the excitement.
A hike through the 'Nkofieho' caves of life is an adventure that everyone must experience on their visit to Kwahu. Don't miss this once in a life time opportunity to take an adventure in Kwahu when you visit there this Easter.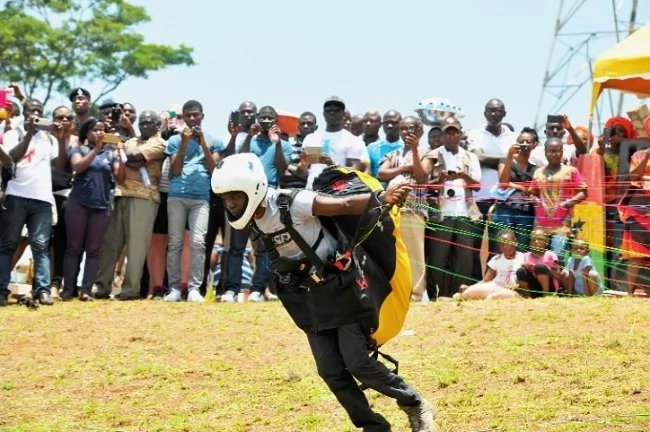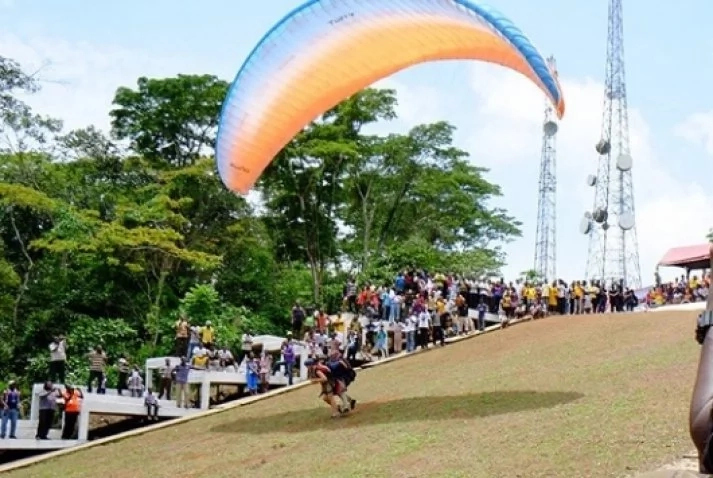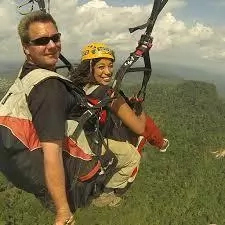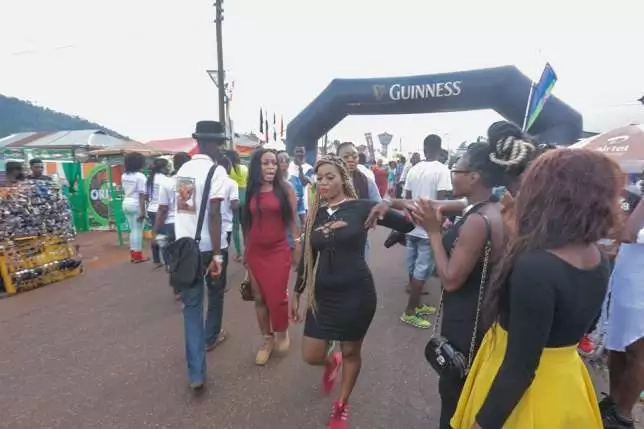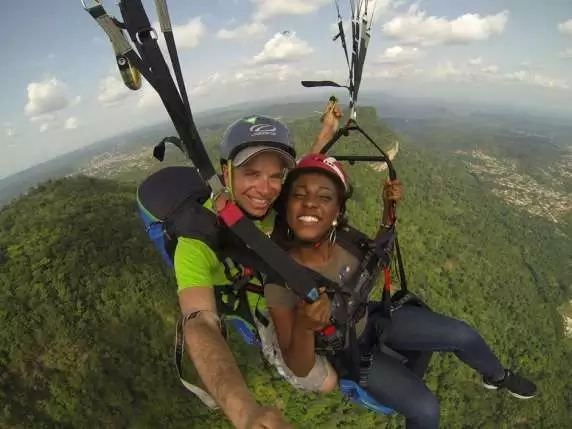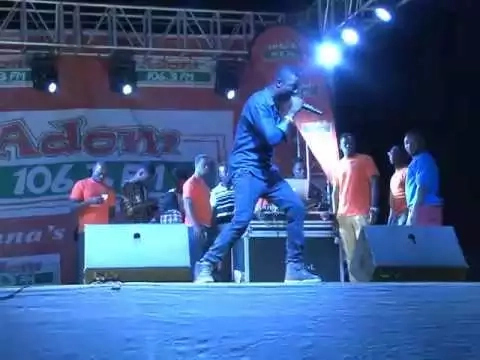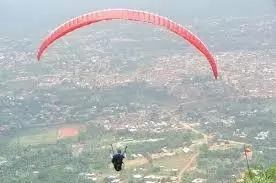 Kwahu West Municipal
Kwahu West Municipal is of the Eastern Region of Ghana. Its administrative capital, Nkawkaw, is located North-West of Accra. Kwahu West is bounded to the north by the Kwahu South District, to the West by Asante-Akim South District. To the East, it is bounded by the Fanteakwa District and to the south by Birim North and Atiwa Districts. The Kwahu West is geographically unique and features some of the highest peaks of the Kwahu plateau. A major township attraction is Nkawkaw Park, a multi-use stadium in Nkawkaw, Ghana. It is used mostly for football matches and is the home stadium of Okwawu United.
Kwahu South
The Kwahu South District is located in the Eastern Region of southern Ghana. The Administrative Capital of Kwahu South District is Mpreaso. The district's main thoroughfare is the Agogo-Mpreso road and Mpreso- Adowso road.
The area Shares boundaries with Kwahu East, Kwahu West Municipal,Fanteakwa District and Asante Akim South. The Kwahu Easter holiday is an event which brings Kwahu South to prominence every year.
Kwahu East
The Kwahu East District is in the Eastern Region of Ghana. The districts Capital is located at Abetifi. Some other communities in the district include Akwasiho, Aduamoah, Bokurwa, Hweehwee and Nkwantanan.
Kwahu East hosts the Nwatia Roman Catholic Church and the popular St. Peter's Senior High School (SHS).
>> Kwahu Hotels And Guest Houses 2019 <<
Video : trip to kwahu Ghana .. oldbogq
Find Out More About Kwahu Ghana 2019
Find Business & Locations Related To Kwahu Ghana 2019
Watch Videos On : Kwahu Ghana 2019
Chat With Other Users On This Page (Registered Members Only)
241
visitors online
Log in to chat with other members
Rooms available: Dating/Hookup, Business/Market, Lotto, Education, Expat
Members logged in (

64

) :
DASORI APAAH MERCY
Princonas
Ann3400
Luklad
Framco1
Mawuvi Godfred
Nimrod
Ugo4olems
Bbyf
Abel chris
maamefe
Kareem54
Soura
Sony
Kalabashone
Akaribo Ezekiel
Deedosty
Emmanuelcp
KellyG
Realerhealthcoach
Kwams
LeunossLhd89
Bayong
kpoha
alkoma
Pucelle
Veeckthur
McBright
Chidi1986
NELSON007
Rainyridwan
tonzi
winstar101
davidkofi
nii123
Pius1
Kwoffie
Diamond1994
Skylolo252
alfred99.
borboor
mb
Jp
Destiny120
Hilda
Thor
kiego
Chiefamadi
Signalgh
Jeafful
AnumYvonne
afia
Konlanbik obed
abutex12020
desmondklu
mohammadbahuballi
Johnstar
bennylois2000
Michael Nunana
Microsoft
Favourland
shabsy
slywalaate
Brightnchakie