BECE School Selection 2021
⭐⭐⭐⭐⭐ - Information on BECE School Selection. Other topics of interest include: Ghana School Of Aviation, Ghana School Of Law Admission Requirements, Ghana School Of Law Makola, Gimpa Law School Ghana, Ghana School Of Law Website. Use the search box above to search for more.
5% Referral Commission Program!.
Prospective Senior High School students who wrote the Basic Education Certificate Examination few months ago can now check their placement details right on their mobile phones. The details can be checked via a text message. The Computerized School Selection and Placement System (CSSPS) will allow the students to see the schools they have been admitted to and program offered.
The CSSPS is a system used by the Ghana Education Service (GES) to place qualified Basic Education Certificate Examination (BECE) candidates into Senior High School (SHS), Technical Institutes (TI) and Vocational Institutes.
To receive details of their school placement: BECE Candidates can TEXT their 10-DIGIT INDEX NUMBER to short code 1060 to CONFIRM schools they chose for this year's placement exercise.
For instance, if your index number is 1234567890, text 1234567890 to short code 1060 on all networks.
NOTE: Do not add [SPACE] anywhere, just text the 10-DIGIT INDEX NUMBER to the 1060 short code.
NOTE: If that does not work, add two(2) digit year of completion to your INDEX NUMBER. Example 123456789017 and send to the 1060 short code. Where INDEX NUMBER is: 1234567890; and two digit YEAR is: 17
Note: Systems may be very busy during peak times. If you are not getting any response then go to the CSSPS website by following the instructions below to check from there. If you continue to have problems then we advise that you use the contact details below to get in touch with them, or go to the GES or WAEC head office located at Asylum Down around the Alisa hotel area for further assistance.

Candidates having various problems in checking their placement have been advised to call 0302 747 778 or send a WhatsApp message to the number 0207 407 499.

Ministry of Education Hotlines

0302747778 /1049,1013
Whatsapp: +233262568206

Email: [email protected] [Click to send email]
Update 2021: Ghana Post has announced a new payment method where parents and students can now directly buy all WAEC e-vouchers on their mobile phones by dialling *447*160# across all networks.
With this new service, students and parents have the option of either going to Ghana Post's various offices nationwide or buying the e-voucher on their phones.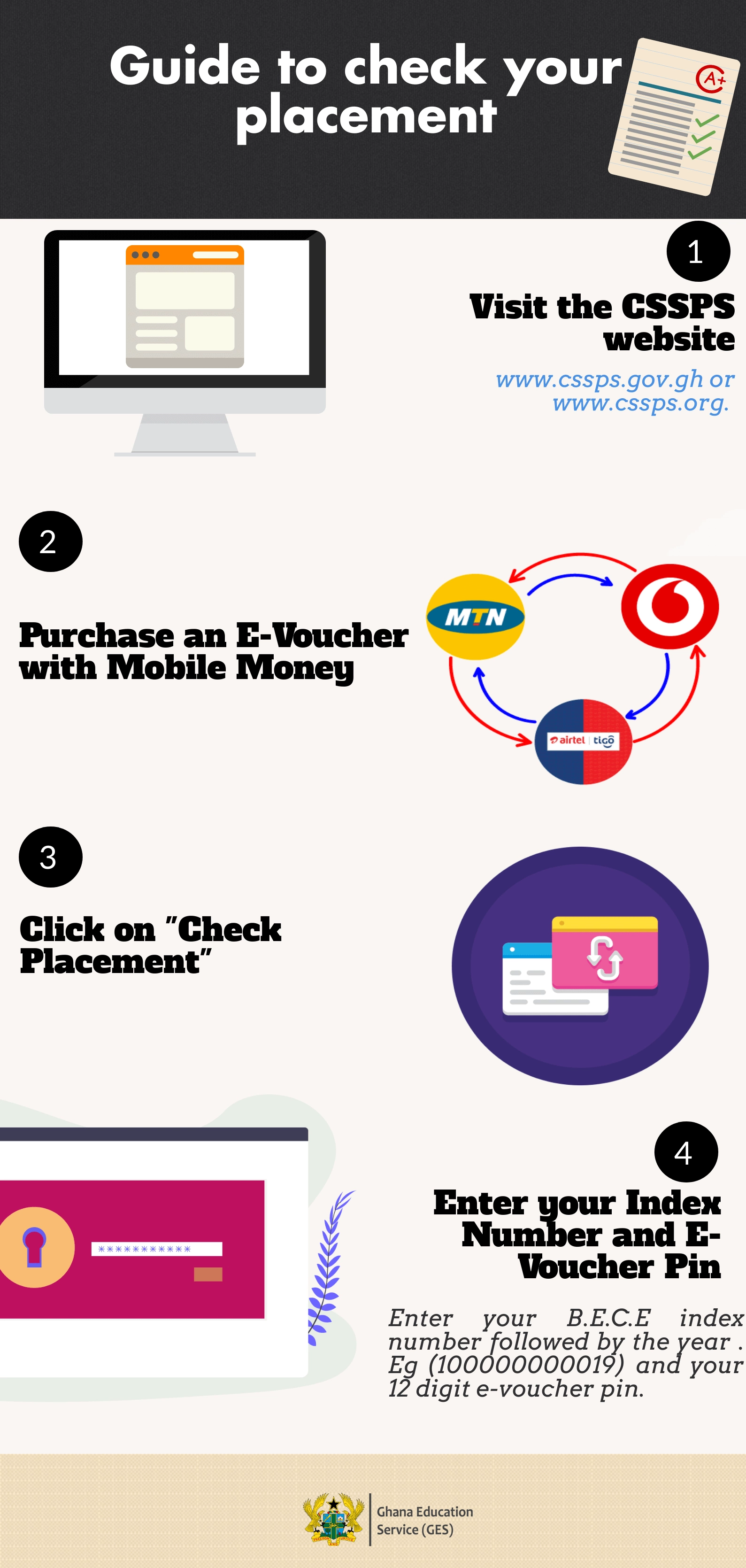 >>> Go To Computerized School Selection Placement System (CSSPS) Website <<<

Use CTRL + P To Print From The Page.
The public can access their results by purchasing the voucher from vendors or with mobile money online and log onto CSSPS website: cssps.gov.gh or use the backup link: cssps.org.
They should then, click on "check on placement", enter the index number and the voucher code, access and print the placement form.
The Director-General said if a student is not automatically placed, they should access the self-placement platform.
Face Dynamic Ventures, Ghana Post Company Limited, Swift Africa Logistics Limited, ARB Apex Bank Limited and Medollo and Gem Limited are the five authorized Pin Code vendors.
The GES has also established a call center to resolve issues arising from placement and it would be opened from Monday, September 9.
The public is urged to call the center on 030-700-7777 for redress.

How to apply/check for the BECE-SHS placement:
1. Visit: CSSPS Website
2. Enter your 10-digits BECE index number. Add the last two digits of the year of examination eg. XXXXXXXXXX21 for 2021.
3. Enter the Card Serial Number found on the top of your Scratch card.
4. Enter the Personal Identification Number (PIN) on your Scratch card.
5. Click Submit and wait for the results window to come up.
6. Proceed to print your placement notice.
CSSPS Self Placement Instructions

This is for those who missed out on the placement to SHS on the CSSPS platform due to one reason or the other. Once you have verified that you did not get your placement then the next thing for you to do is to carry out a self placement. Rejection may be due to the fact that the first selected school may be filled to their capacity after admitting students with the required "cut off" point.

Other reasons may be due to failing mathematics or English subjects, providing the wrong information during registration, choosing one school more than once which may automatically limit your chance of placement, or the school may be oversubscribed by candidates.
Note: The process may be subject to a fee. Kindly verify from the CSSPS website.

Procedure is as follows:
Visit: CSSPS Website
Login with your index number and PIN code
Click on "Check placement status"
You will find a link to self-placement if you have not been placed already

Click the "self-placement" link
Select preferred region

Select preferred school
Select program of choice
Click submit to finalize and place yourself
Proceed to print your placement notice
Find Out More About BECE School Selection 2021
Find Business & Locations Related To BECE School Selection 2021
Watch Videos On : BECE School Selection 2021
Login to join 'Group Chat' for this page