Unemployed bonded diploma nurses to start work July 1, 2017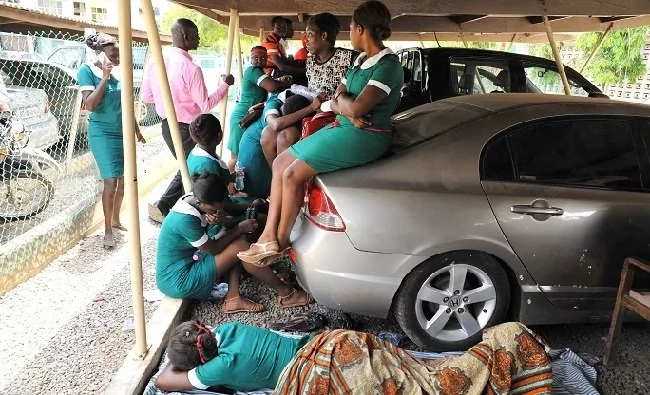 The Ministry of Health has resolved the issue of the Coalition of Unemployed Bonded Diploma Nurses, for them to start work July 1, 2017, Graphic Online has gathered.
The nurses are to expect their postings before the end of June 2017 to enable them start work July 1.
This was the outcome of a meeting between them and the Ministry on Thursday, spokesperson for the nurses, Tina Mireku has said.
Tina Mireku in a radio interview on Accra based Class FM said they have been informed that there has been financial clearance from the Ministry of Finance to enable the Ministry of Health post them to the various health facilities.
"A meeting just ended with the minister, the Executive Director of the Ministry of Health, and other stakeholders and our clearance has been released - a total of 4832 nurses. On the clearance, it has been stated that we are to start work 1 July," she said.
"Aside whatever happened, although the minister was not happy with the demonstration, that is the picketing we did…we also told him we did that out of frustration because staying home for nine months jobless wasn't easy for us. So we want to say a big thank you to the Ministry of Health, all stakeholders that were involved in our posting and then the media… So we are looking forward to the Ministry to give us our various stations where on the 1st of July we will go and begin our work as professional nurses in the country."



Made up of psychiatric nurses, general nurses, and midwives, they constituted themselves into a pressure group called the Coalition of Unemployed Bonded Diploma Nurses and threatened to march to the seat of government in the coming days if the Health and Finance ministries failed to give them financial clearance to be posted to the various health institutions.
On Monday April 24, they picketed the ministry to pile pressure on the government to accelerate their recruitment, saying they had remained jobless having left school in 2015 and since completing their national service in August 2016.
They only agreed to go home on Wednesday April 26, having spent two nights sleeping rough at the ministry's car park to press home their demands.
Writer's email: [email protected]
Published by GWS Online GH : 2017-05-05
More News
Do you have News to share? Simply email us.
News Archive - Recent Articles
369
visitors online
Log in to chat with other members
Rooms available: Dating/Hookup, Business/Market, Lotto, Education, Expat
Members logged in (

65

) :
SILUE touplé
Adjei malik
Rossie
Abdul Hafiz Adam
Microsoft
Dammyjames
Kobby G
Ernikay
Faisal
Michael Nunana
tedmund
Okoriekalu
Joy1
alfred99.
joemamai
alizzini
shabsy
abeiku7
Peter Agbango
mohammadbahuballi
Anitom
bennylois2000
wealth
Emmando
Favourland
FONCKY
Tibeluv
Wajuman
Kalabashone
bright ezah
Rexford4444
goanang13gmail.com
Walkman
DASORI APAAH MERCY
Princonas
Ann3400
Luklad
Framco1
Mawuvi Godfred
Nimrod
Ugo4olems
Bbyf
Abel chris
maamefe
Kareem54
Soura
Sony
Akaribo Ezekiel
Deedosty
Emmanuelcp
KellyG
Realerhealthcoach
Kwams
LeunossLhd89
Bayong
kpoha
alkoma
Pucelle
Veeckthur
McBright
Chidi1986
NELSON007
Rainyridwan
tonzi
winstar101