NSS Personnel assaulted allegedly by Soldiers during chaotic registrations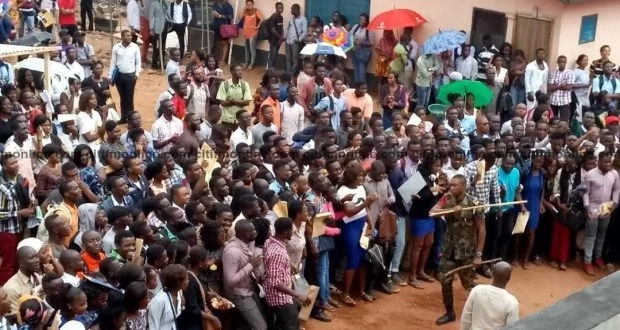 The registration process for this year's national service personnel turned chaotic when some military personnel moved in to maintain order.
The presence of the military was necessitated by a long disorganized queue of prospective personnel.
Some prospective service personnel told Caleb Kudah that the military in an attempt to maintain order assaulted them by using belts and sticks on them.
They lamented that they began forming a queue at about 5:00am on Monday, but at daybreak, the military personnel asked them to re-form the queue which resulted in some confusion and an attempt to restore calm by the military led to a stampede.
A lady reportedly suffered serious injury and bled profusely when a military officer hit her head with a stick in a bid to control the chaotic scene.
Those affected by the Monday morning chaos were personnel who have been posted to serve within Ledzokuku Krowor Municipal Assembly (LEKMA) and La Dade-Kotopon Municipal Assembly (LaDMA).
Registration of service personnel every year is fraught with chaos as personnel struggle to go through the process at most centers especially in the Greater Accra and Ashanti Regions where the most number of personnel are posted.



A total of 91,871 personnel were deployed this year to serve in various institutions as part of their 1-year mandatory service to the country.
Most of the personnel were deployed to serve in the Greater Accra Region.
Meanwhile, the Executive Director of the National Service Scheme, Ussif Mustapha, who visited the scene says he has not been briefed about the incident.
He also challenged calls for an online registration system to replace the current manual system which is often fraught with such chaotic and long queues.
Registration for this year's National Service personnel ends on 24th August, 2017
By: Jonas Nyabor
Published by GWS Online GH : 2017-07-26
More News
Do you have News to share? Simply email us.
News Archive - Recent Articles
318
visitors online
Log in to chat with other members
Rooms available: Dating/Hookup, Business/Market, Lotto, Education, Expat
Members logged in (

65

) :
Kwofie
SILUE touplé
Adjei malik
Abdul Hafiz Adam
Microsoft
Dammyjames
Kobby G
Ernikay
Faisal
Michael Nunana
tedmund
Okoriekalu
Joy1
alfred99.
joemamai
alizzini
shabsy
abeiku7
Peter Agbango
mohammadbahuballi
Anitom
bennylois2000
wealth
Emmando
Favourland
FONCKY
Tibeluv
Wajuman
Kalabashone
bright ezah
Rexford4444
goanang13gmail.com
Walkman
DASORI APAAH MERCY
Princonas
Ann3400
Luklad
Framco1
Mawuvi Godfred
Nimrod
Ugo4olems
Bbyf
Abel chris
maamefe
Kareem54
Soura
Sony
Akaribo Ezekiel
Deedosty
Emmanuelcp
KellyG
Realerhealthcoach
Kwams
LeunossLhd89
Bayong
kpoha
alkoma
Pucelle
Veeckthur
McBright
Chidi1986
NELSON007
Rainyridwan
tonzi
winstar101