SHS placement challenges should have been anticipated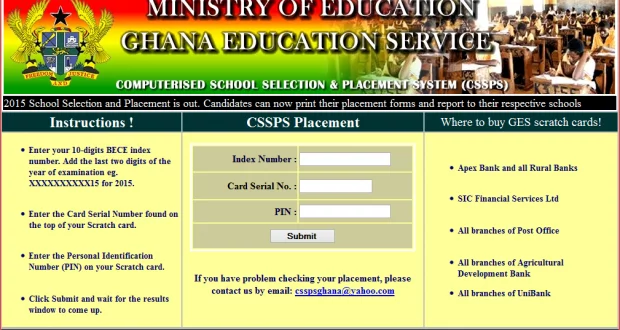 An Information Technology professional and Deputy General Manager for NIIT, Yaw Amoateng, says the Ghana Education Service should have anticipated the challenges being experienced by users of the Basic Education Certificate Examination (BECE) placement website.
According to him, the challenge, which is due to overwhelmed system servers have been recurrent over the years and there was the need for the managers of the system to put in place measures to ensure that the system could cope with heavy website traffic.
Barely 24 hours after the Ghana Education Service (GES) announced that it had released the placements for students who took the 2017 BECE, the website advertised to enable parents and their wards access their Senior High School (SHS) admissions notices has been suffering intermittent downtime.
Those who sought to access the website were met with error notices or managed to get in after several attempts.
According to some prospective SHS students, the situation inconvenienced them as they had to make regular visits to internet cafes to try to access their placements online.
Others who have not been placed yet are also frustrated they have to beat a 48-hour deadline given by the GES to make their preferred choice of school from options provided on the website.
Many fear the current situation may negatively impact the educational calendar for SHSs this year, but Mr. Yaw Amoateng says the development "is really not something new".
"Every year whenever the results are out and there is school placement, we go through this ritual… I think at the time of the system development, we should have anticipated that this challenge was going to occur at this time. Maybe to see how much load the system was going to take," he said on Eyewitness News.
Explaining the situation, he said a cursory assessment of the challenges being experienced "impacts on traffic because all of a sudden we have so many people who want to access the information on the site which is not originally designed to accommodate that number of people. There is a lot of traffic and the system is unable to support it."
While indicating his optimism that the system was being worked on by its managers, he suggested that "Multiple access points could be created so that people can access the information through different routes. Alternatively, you can look at a scalable system so that as and when the traffic comes in, you scale it up to accommodate."
We're working to address the problem – Gov't
Meanwhile, the government says it is working to overcome the Internet-based challenges that have plagued the Computerized School Selection Placement Secretariat (CSSPS), and frustrated Basic Education Certificate Examination (BECE) graduates trying to beat the deadline for placement.
Addressing the press on Monday, a Deputy Minister of Education in charge of pre-Tertiary Education, Dr. Yaw Osei Adutwum, said the government shared in the anxiety of parents and is working to resolve the technical challenges.
By: Jonas Nyabor
Published by GWS Online GH : 2017-09-05
More News
Do you have News to share? Simply email us.
News Archive - Recent Articles
363
visitors online
Log in to chat with other members
Rooms available: Dating/Hookup, Business/Market, Lotto, Education, Expat
Members logged in (

65

) :
SILUE touplé
Adjei malik
Rossie
Abdul Hafiz Adam
Microsoft
Dammyjames
Kobby G
Ernikay
Faisal
Michael Nunana
tedmund
Okoriekalu
Joy1
alfred99.
joemamai
alizzini
shabsy
abeiku7
Peter Agbango
mohammadbahuballi
Anitom
bennylois2000
wealth
Emmando
Favourland
FONCKY
Tibeluv
Wajuman
Kalabashone
bright ezah
Rexford4444
goanang13gmail.com
Walkman
DASORI APAAH MERCY
Princonas
Ann3400
Luklad
Framco1
Mawuvi Godfred
Nimrod
Ugo4olems
Bbyf
Abel chris
maamefe
Kareem54
Soura
Sony
Akaribo Ezekiel
Deedosty
Emmanuelcp
KellyG
Realerhealthcoach
Kwams
LeunossLhd89
Bayong
kpoha
alkoma
Pucelle
Veeckthur
McBright
Chidi1986
NELSON007
Rainyridwan
tonzi
winstar101