Lecturers declare indefinite strike to protest court ruling against UEW Vice Chancellor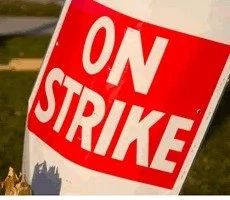 Lecturers across Ghana's public universities are to begin an indefinite strike as they resist what they call an attack on academic freedom.
The looming strike follows a court order asking the Vice-Chancellor of the University of Education Winneba to step aside.
The University Teachers Association of Ghana (UTAG) says the imposition of an Acting Vice-Chancellor on the University of Education Winneba is against the University's Act and Statutes and constitutes an attack on academic freedom.
A Winneba High court in July ordered the Vice-Chancellor of UEW, Professor Mawutor Avokeh, to step aside until a case brought against him and the University's Governing Council was determined. The order also affected the institution's Finance Officer.
The court order was the result of a suit filed by one Supi Kofi Kwayera who insisted that the Vice Chancellor and the Finance Officer were operating under the institution's defunct Governing Council.
Mr. Kwayera adduced that the University Council's mandate had expired in November 2013, but the Education Ministry failed to constitute a new Governing Council for the university, and rather allowed and permitted the defunct Governing Council which had no mandate whatsoever to continue the functions of a properly constituted Governing Council as if same had been properly constituted.
Mr. Kwayera insisted the move was unlawful, and hence his legal action against the University of Education, Winneba.
However, before the substantive claims were looked into, the University, through its lawyers, applied to the court to dismiss the suit on the three counts, but the application was dismissed.
President of the UTAG, Dr. Harry Agbanu, says the intended strike was necessary because it suspects that some faceless persons are manipulating the UEW management.
A statement by the National Executive Committee (NEC) of UTAG said: "It is our firm belief that our firm belief that the issue at the UEW is an attack on academic freedom and thus affects all public universities in Ghana."
Meanwhile, the Vice-Chancellors Ghana has invited UTAG executives to a meeting on Monday to discuss the matter and find a common ground.
UTAG has given a one-week ultimatum to all stakeholders to resolve the matter, adding it will review its position on the at an upcoming Congress scheduled for Friday, September 22, 2017.
Source: Joy News
Published by GWS Online GH : 2017-09-18
More News
Do you have News to share? Simply email us.
News Archive - Recent Articles
102
users online