Kantanka Automobiles endorsed by the Asantehene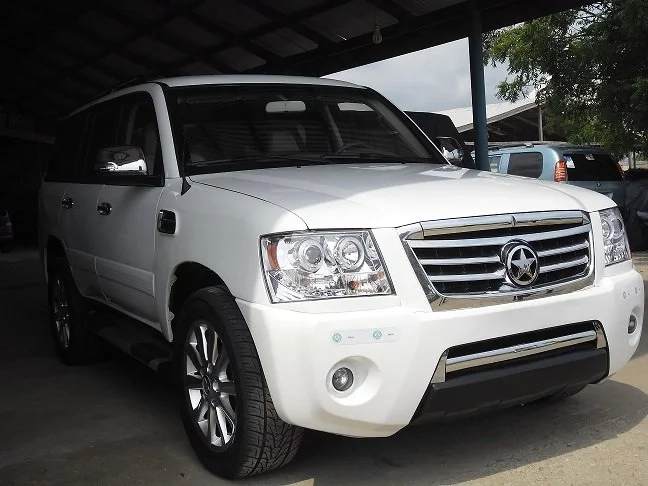 There is no need to import vehicles into Ghana when locally-assembled Kantanka automobile models are available.
That's the endorsement by the Asantehene Otumfuo Osei Tutu II after taking delivery of a customized suburban utility vehicle [SUV] manufactured by Kantanka Automobile in Kumasi.
It is one of three vehicles ordered by the Asante King from the local automobile manufacturer in a bid to support local manufacturing companies to grow.
The customized 4x4 SUV comes with the brand name Kantanka Otumfuo.
It comes with neatly woven Kente cloth used as interior deco nicely arranged on the seats and all the four doors is not only inviting but gives it a stunning look.
Two of the vehicles, each one costing Gh 150,000 Ghana Cedis will be delivered later.
After inspecting the vehicles, Asantehene Osei Tutu II, said there is no need to import vehicles that can be produced locally by indigenous automobile firm from abroad.
According to him, he acquired the 'Kantanka Otumfuo' to encourage Apostle Kwadwo Sarfo and also invite Ghanaians especially government to patronize them.
Chief executive of Kantanka Automobile, Kwadwo Sarfo Jnr says it is time for Ghanaians to support the local industry by patronizing made-in- Ghana products.
The vehicle, one of the numerous innovations the industrialist who is also a preacher, has produced in recent times.
Mr Sarfo Kantanka's vehicles also have an in-built warning system that warns both pedestrians and other road users.
Published by GWS Online GH : 2017-04-14
More News
News Archive - Recent Articles
users online